Thuraya Satellite Phones
Thuraya gets its' name from the Arabic constellation of Pleiades, Thurayya. The company was established in 1997 and Thuraya is the first home grown satellite operator in the United Arab Emirates. Today, it has geostationary satellites covering over 160 countries in Europe, Africa, the Middle East, and Asia.
Thuraya's Network
The satellite system is regional (not global) and provides an infrastructure for communications via satellite using handheld phones or fixed terminals.
Thuraya operates the communication satellites Thuraya 2 and 3 (Thuraya 1 was decommissioned in 2007). It provides a 60 kbit/s downlink and 15 kbit/s uplink GMPRS data service on the sat phones and a 444 kbit/s high-speed data transfer on the Thuraya IP terminal.
Connect with Thuraya
The cost of Thuraya satellite phones start from about $700. The phones and transceivers use built-in GPS to transmit your physical location. The Thuraya satellite phone range offers a variety of accessories, chargers, docking stations and repeaters to enhance your satellite communication experience. Canada Satellite offers two Thuraya sat phone makes.
Whether you're an avid explorer about to embark on an expedition of a lifetime or an NGO volunteer moving from country to country, here at Thuraya, we've made it our mission to create innovative products and solutions to make your life easy and safe.
Our latest launch is the Thuraya XT-PRO DUAL, which is the world's first dual mode, dual SIM phone, keeping you safe and in touch with the most important people in your life as you continue on your journey. While you're out there on the move, in the middle of nowhere, it would be good to know the rest of the world is just a phone call away. It bridges the gap between satellite and terrestrial communications, allowing users to move seamlessly in and out of terrestrial coverage to enjoy connectivity in any location. 
We pride ourselves in achieving many industry firsts including the Thuraya SatSleeve+ and SatSleeve Hotspot which let you turn your smartphone into a satellite phone, creating the perfect blend of mobility and simplicity. The flexible and rugged Thuraya XT-PRO, which was the first satellite phone to feature all 3 major navigation systems, GPS, BeiDou and Glonass. And let's not forget the industry's best value-for-money satellite phone – the Thuraya XT-LITE for those part-time adventure seekers. With satellite coverage across Europe, Africa, Asia and Australia, and with over 360 roaming partners in 161 countries, Thuraya's reliable and uninterrupted network allows you to stay connected wherever you are and whenever you need it. 
Thuraya Coverage Map
---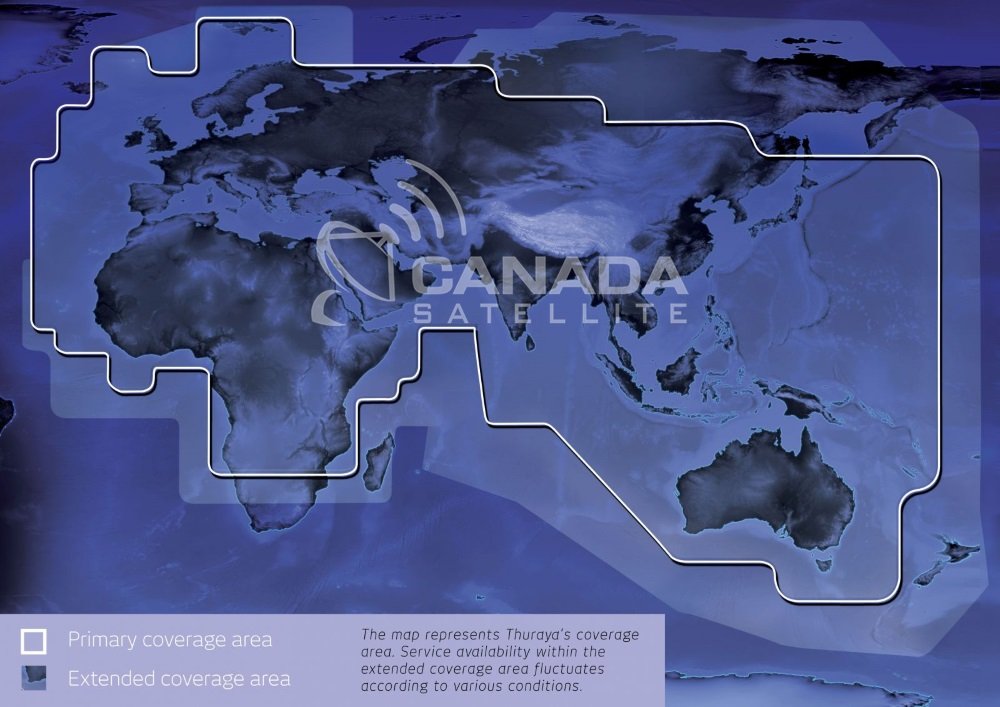 Thuraya's robust satellite network provides coverage in the most remote locations, ensuring congestion-free satellite communications to keep you connected at all times. From innovative satellite design to the reliability of each Thuraya device and accessory, we provide a truly superior satellite communication solution beyond the boundaries of terrestrial systems and cellular networks.
The Thuraya network does not cover north or south America.


Thuraya SatSleeve Plus
The Thuraya SatSleeve Plus satellite phone is a convenient attachment for smartphones to connect to a satellite when the cellular network is unavailable. Apple and Android phones can utilize sat phone capabilities to communicate via voice, text, and data.
The Thuraya SatSleeve works with a physical phone adaptor and a free downloadable App. An added bonus is the SatSleeve's SOS button that can be activated even when its not attached to a phone. The SatSleeve devices also offer Wi-Fi hotspots and repeaters to improve satellite connectivity.
Thuraya XT
The Thuraya XT satellite phone is a handheld mobile device that comes in different models with their own set of benefits:
Thuraya X5-Touch Smart is an Android-based satellite and GSM phone with a 5.2" HD touch screen.

Thuraya XT Pro Dual is larger and slightly heavier than the Pro and Lite models but has a longer battery life and offers dual SIM, and dual sat and GSM capabilities.

Thuraya XT Pro is for voice and data communication via satellite.

Thuraya XT Lite is similar to the Pro but is only used for satellite voice communication and excludes the added shock resistance and protection features. This model is also offered as a rental unit.
Thuraya Phone Plans
Flexible and cost-effective phone plans are available for different requirements. If you intend to be heavy on data or just voice, or both, you can choose from one of the Thuraya plans offered by Canada Satellite. All Thuraya airtime is billed in USD.
Thuraya Phone Monthly PostPaid Plan
If you register for a postpaid monthly plan, you can make calls now and pay later. This is convenient where you don't need to worry about topping up your balance in an emergency. The plan offers unlimited usage and the rates are typically lower than prepaid.
Thuraya Phone Prepaid Plans
The Thuraya ECO Pre Paid SIM card is suitable for minimal usage and offers low-cost call rates to 83 countries. The Thuraya Prepaid SIM with 10 Credits has varying rates for calls made between Thuraya phones and other networks.