Thuraya Coverage Map
---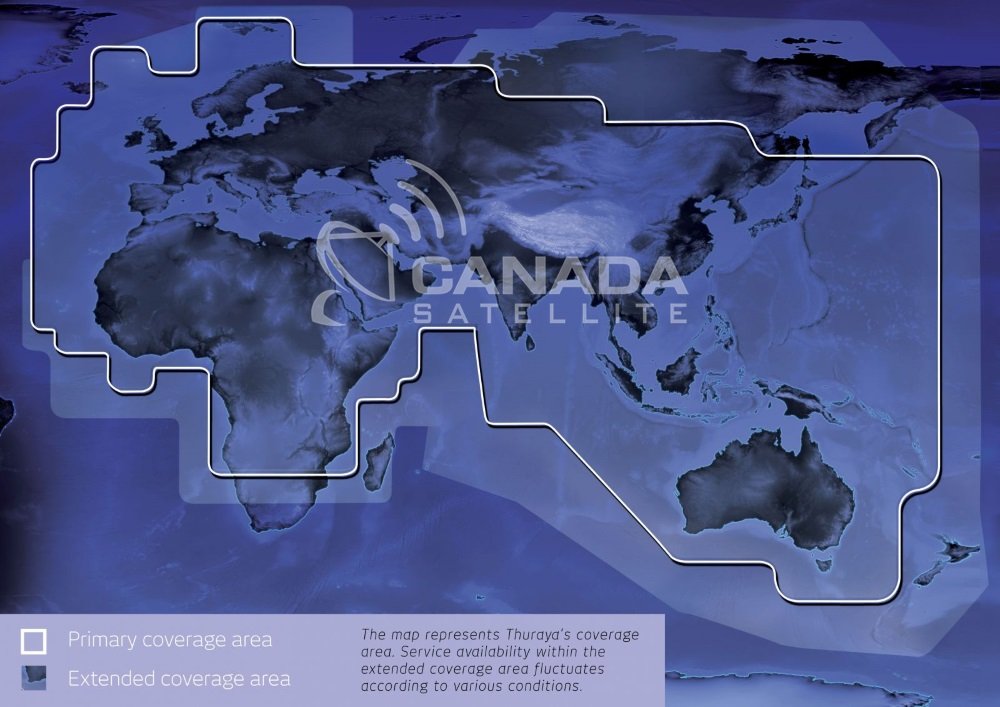 Thuraya's robust satellite network provides coverage in the most remote locations, ensuring congestion-free satellite communications to keep you connected at all times. From innovative satellite design to the reliability of each Thuraya device and accessory, we provide a truly superior satellite communication solution beyond the boundaries of terrestrial systems and cellular networks.
The Thuraya network does not cover north or south America.
With access in over 140 countries spanning Asia, Australia, Africa, the Middle East and Europe, Thuraya provides coverage across 70% of the world.
Countries and territories within Thuraya's new coverage area:
Akrotiri [Cyprus],

Angola (partial)

, Ashmore and Cartier Islands, Australia, Burma, Christmas Island, Cocos (Keeling) Islands, Coral Sea Islands, Czech Republic, Dhekelia [Cyprus], East Timor (Timor-Leste), Faroe Islands, Gaza Strip, Gibraltar, Guam, Guernsey, Iceland (partial), Isle of Man, Jersey, Macau, Marshall Islands, Micronesia, Federated States of, Mongolia,

Mozambique (partial)

, Nauru, New Caledonia, Northern Mariana Islands, Palau, Papua New Guinea, Paracel Islands, Solomon Islands, Somalia, Spratly Islands, Taiwan, Vanuatu, Vatican City, Wake Island, West Bank, Western Sahara,

Zambia (partial)

,

Zimbabwe (partial)
We now serve our customers in Africa directly from Johannesburg, South Africa.
will not work in

Botswana

,

Comoros

,

Juan de Nova Is.

,

Lesotho

,

Madagascar

,

Mauritius

,

Namibia

,

Sao Tome

,

South Africa

,

Swaziland

, chechia?, Georgia, Myanmar,
We now offer shipping to Europe direct from London, England.